Anyone is invited to attend and see what High Power Rocketry is all about, however, due to Insurance Regulations and Policy, only Tripoli members and qualified NAR members will permitted to fly High Power. Anyone in attendance may fly Class C Model Rockets ONLY (that is A thru G motors). FAA waiver is in affect with a clearance 7500 ft msl = 4700 ft above the lake bed. Night flights are limited to 5,000 feet. All participants and visitors are asked to abide by any, and all, rules.
Coming from out of town?
Jean Dry Lake is 22 miles south of Las Vegas off
I-15, exit off the 12 mile mark( Jean Exit ) and head east on 161 about 1/4 mile and then turn north on route 6( also Las Vegas Blvd ) for about 3 miles , look for the big brown area to the East or Launch site Signs. ( Two good roads lead to the Dry lake bed )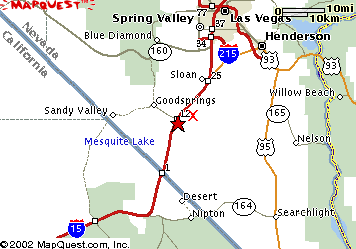 Coming from Las Vegas?
From Warm Springs + Las Vegas Blvd.
Follow Las Vegas Blvd south
15.4 miles turn left
Follow paved road
2.1 miles turn right
Follow dirt road
2.1 miles
At the Jean Dry Lake Bed entrance
0.75 miles heading (south-south-west)
to the middle of the bed.

Alternate Route to a better road:

Follow Las Vegas Blvd south

17.9 miles turn left when you see these signs. It is at the limited clearance under pass sign.
Follow road to Dry Lake Bed when you get to a road going to the right, Turn Left to enter the lake bed.

HOTELS
Jean, NV (2 miles south of Launch site area)
Gold Strike (702) 477-5000
Nevada Landing (702) 387-5000

Primm, NV (13 miles south of launch site area)
Whiskey Petes
Primadonna
Buffalo Bills
1-800-FUN-STOP ( 1-800-386-7867)

Las Vegas, NV (25 miles North of launch site area)
Too many to list, take your Pick:
Hotel links here
For Local Launch dates click here
LOCAL LAUNCHES(only)
Fees: $5
Camping: is Permitted
(no fires on the lakebed.)
(Grills or burn barrels are ok)
Waiver: 7500 ft msl = 4700 ft above the lake bed

Facilities: None