Welcome to Tripoli Vegas
Big and Small, We launch them all!!!
Tripoli Vegas, Prefecture #24
---
News Flash Box
Club Membership for 2021 is still just $30.00.
Delamar Launch a GO! Waiver approved. May 28-30. Directions.
From Sue Johnson:
Bernie's daughter contacted us about a Celebration of Life that they are going to do for Bernie & Laura. The date is 9/19/2021. They would like to know how many people would like to attend. RSVP with his daughter, Rachel, at this e-mail address: lucido.rachel AT gmail DOT com
To keep current on the status of our launches join our group e-mail. As of December 15, 2020 our Tripoli Vegas Yahoo Email group is deprecated.
You can join our new Tripoli Vegas Email Group list.
You can also follow us on the FACEBOOK,

NOTE: you do not need a Facebook account to browse our Facebook page!
Facebook is our "DropBox" for flight pictures!
---
Our FAA waiver for 2021 is in hand...
Normal flying is 0-7000 feet MSL (4200 feet AGL(above ground level)).
Call-in windows are available to 15,199 feet AGL dependent on Tracon.
Night flying is 0-4200 feet AGL.
---
Spectators are Free
As of June 3, 2020
Due to new BLM regulations all fires must be in above ground containers. All ashes from fires & trash must be picked up before you leave. Please be courteous and go slow around camp in cars, trucks and ATV'S. Be kind to other camps. Don't dust them out and watch your speed on the lake bed. Thank-you!
The TRA Board of Directors are pleased to announce that NAR members are now able to fly commercial motors at Tripoli Research Launches. NAR members may fly commercial motors at a Tripoli Research Launch as long as the flight is within the fliers certification level and conforms to the NAR safety code.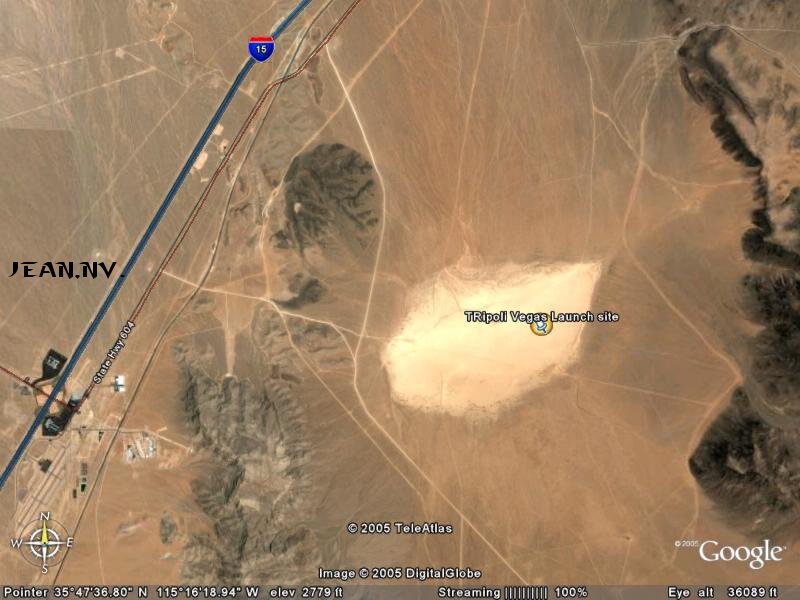 Picture of Jean launch site from 36,089 feet